14F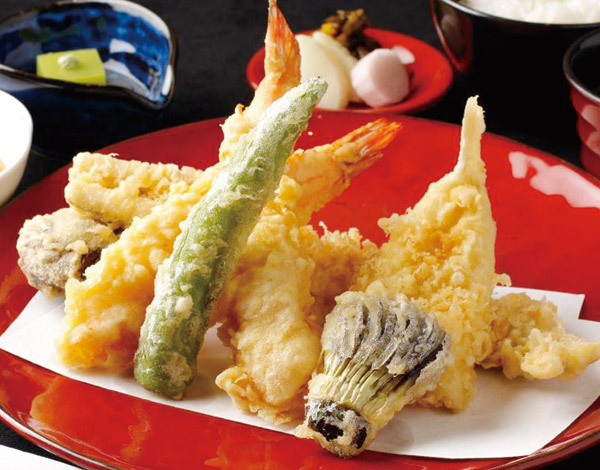 Established in the 18th year of the Meiji period(1885). A historical restaurant that is said to have originated in Tokyo.
Tengoku started as a small stall in present day Ginza 4-chome. People have been known to say "for tempura it's Tengoku" thanks to the traditional culinary technique and flavors passed down since establishment. We use a high quality blend of sesame and corn oil to make our tempura gentle on the stomach. Our lightly fried tempura uses the select seasonal ingredients from all across the country while remaining true to Tokyo style. You'll never get enough of it. Please enjoy the flavors of traditional Japanese cuisine through these refined.
Message from the Chef
Thank you for visiting our restaurant today. Please enjoy the traditional flavors that we have preserved since our establishment.
Place

14F
Open

lunch 11:00~17:00(L.O. 17:00)
dinner 17:00~23:00(L.O. 22:00)
weekends・holidays 11:00~23:00(L.O. 22:00)
Seats

46 seats
※Counter seats are only for course meal and Tempura.
Budget

lunch at least 1,836 yen
dinner at least 2,367 yen
Smoking

No smoking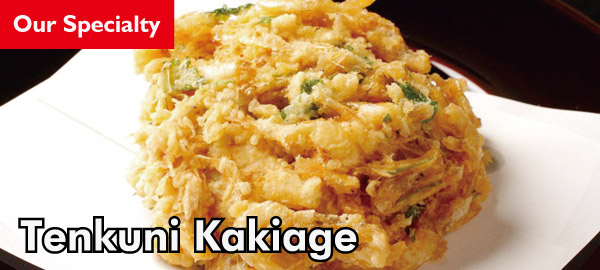 Kakiage is made from thinly sliced vegetables and seafood that are all fried together.
Tengoku kakiage is bigger than that of other shops.A plentiful array of ingredients ensures you'll be satisfied, and the frying process creates a heartily thick and fluffy to the core texture. Our fans tell us that they can't get enough of our food!
Recommendations