13F
Serving up thickly sliced, flavorful aged-meat, our restaurant is loved by the young and old alike.
Tonkatsu, a signature homestyle Japanese dish. Tonkatsu is a staple in the Japanese home, so we had to go above and beyond to attract customers.In Japan, tonkatsu is always eaten with cabbage, rice, and miso soup, and we offer free extra helpings of all of these. Delicious food is a given. Our mission is to satisfy our customers to the soul, and bring a smile to your face through our cuisine.
Message from the Manager
Thank you very much for your patronage. We offer you a culinary experience that will bring you happiness with delicious ingredients and heartfelt service.
Place

13F
Open

11:00~23:00(L.O. 22:00)
Seats

76 seats
Budget

lunch 1,650 yen
dinner 1,800 yen
Smoking

No smoking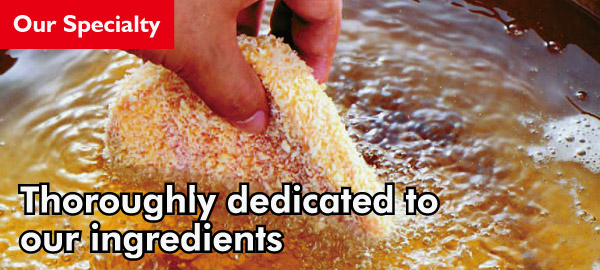 We're thoroughly dedicated to our ingredients, and not just only meat. We bake bread for only the best breadcrumbs to make our tonkatsu with, and our sauces are made from quality fruits and lavish spices. Our cabbage is sliced with care. Take a bite and you'll see the difference.
Recommendations